Regular price
Sale price
$13.49 USD
Unit price
per
Sale
Sold out
FLKR LYTR: Flicker lighter spinning lighter case Big Mushroom Garden! The Big Mushroom Garden is a cute and unique design guaranteed to make people smile and ask where you got it! The FLKR LYTR  is a great conversation starter and a great way to keep your busy hands relaxed. Fits Bic lighter- no additional wrapping!
The FLKR LYTR will help increase focusing or for those who fidget to relieve nervous energy, anxiety, or psychological stress. It also gives the functionality of a lighter whenever the user needs it.  
The FLKR LYTR also allows the user to change out their Bic lighter when its empty. Simply press down on the Bic lighter and pull from the bottom. Take the new Bic lighter and place at the BOTTOM of the FLKR LYTR and push UPWARDs till you feel a tight grip, Then FLK it! 

The perfect stocking stuffer or as a gift during these holidays!

* LIGHTER NOT INCLUDED. MUST BE 18 OR OVER TO PURCHASE *
Spinner Lighter Cover: The world's first patented spinning lighter case! The FLKR LYTR fidget spinner lighter case is the original lighter cover that combines the calming effects of fidget spinners with the security of a protective lighter case while providing a sleek and elegant look!

Designer Lighter Case: Everyone likes to show off and FLKR LYTR offers you elegant designs for each lighter case! From the sleek matte black of the DRK NYTE, to intricate patterns, this lighter fidget spinner cover will hold and protect your favorite lighter while also looking great!

For Standard Bic Lighter Only: Measuring 2.35 inches × 1.04 inches × 0.63 inches, the FLKR LYTR fidget lighter case is designed to work only with a standard BIC lighter (that has no decorative shell). It has a snug fit which prevents the lighter from falling out, even when you're on the move.

Multifunctional Lighter Case: Each lighter spinner case is made from high quality plastic polypropylene and comes with a built-in bearing, making them extremely sturdy and durable for extended spinning. Comfortable when in the hand and in the pocket, this lighter case sleeve adds only minimal weight to your lighter.

How to Use: Ensure you are using a plain (no decoration) BIC Standard lighter. Slide the lighter into the bottom of the spinner cover until fully in place. Given the snug nature of the case, you may have to apply a little force when inserting and removing the lighter for the first time. Once properly in place, enjoy spinning!
Share
View full details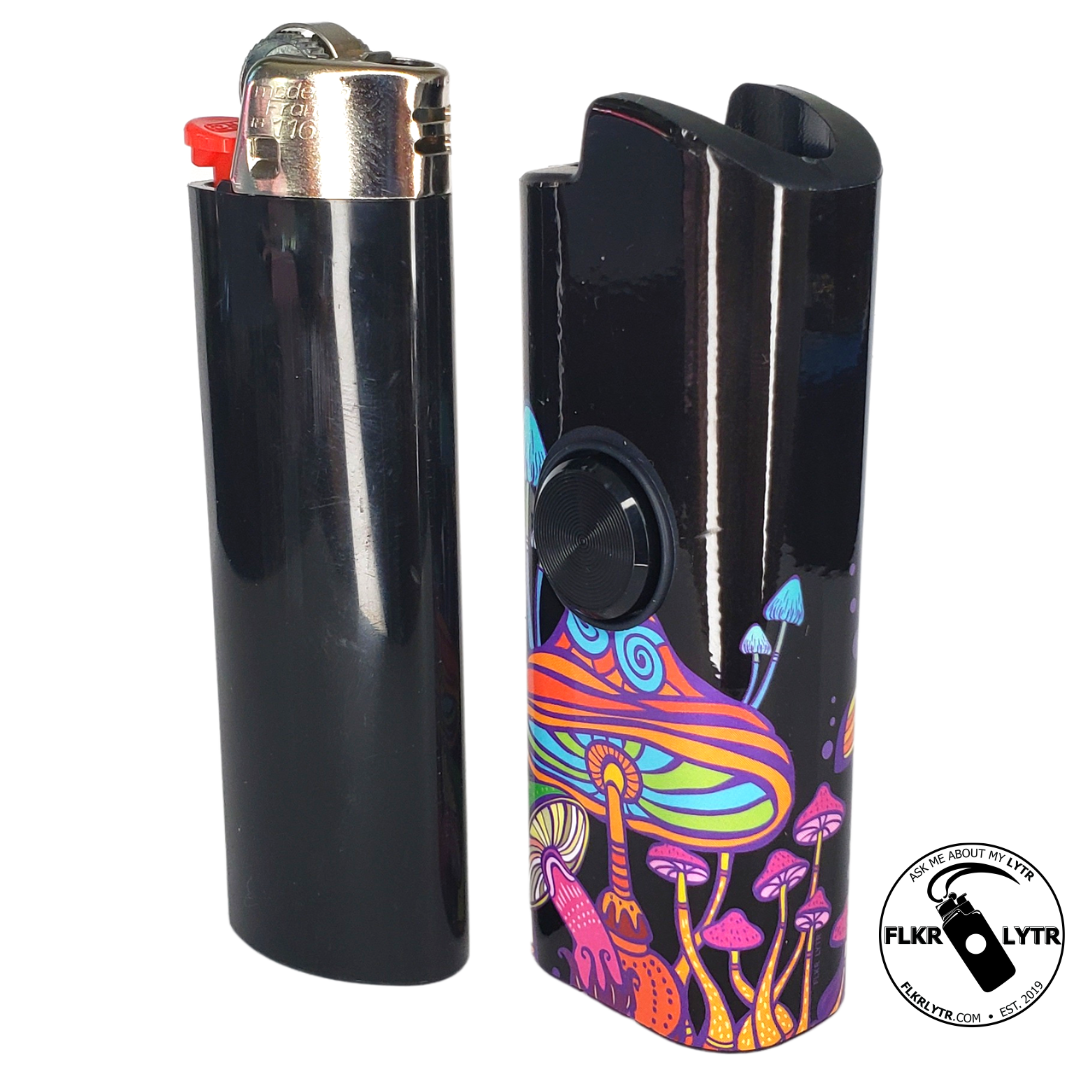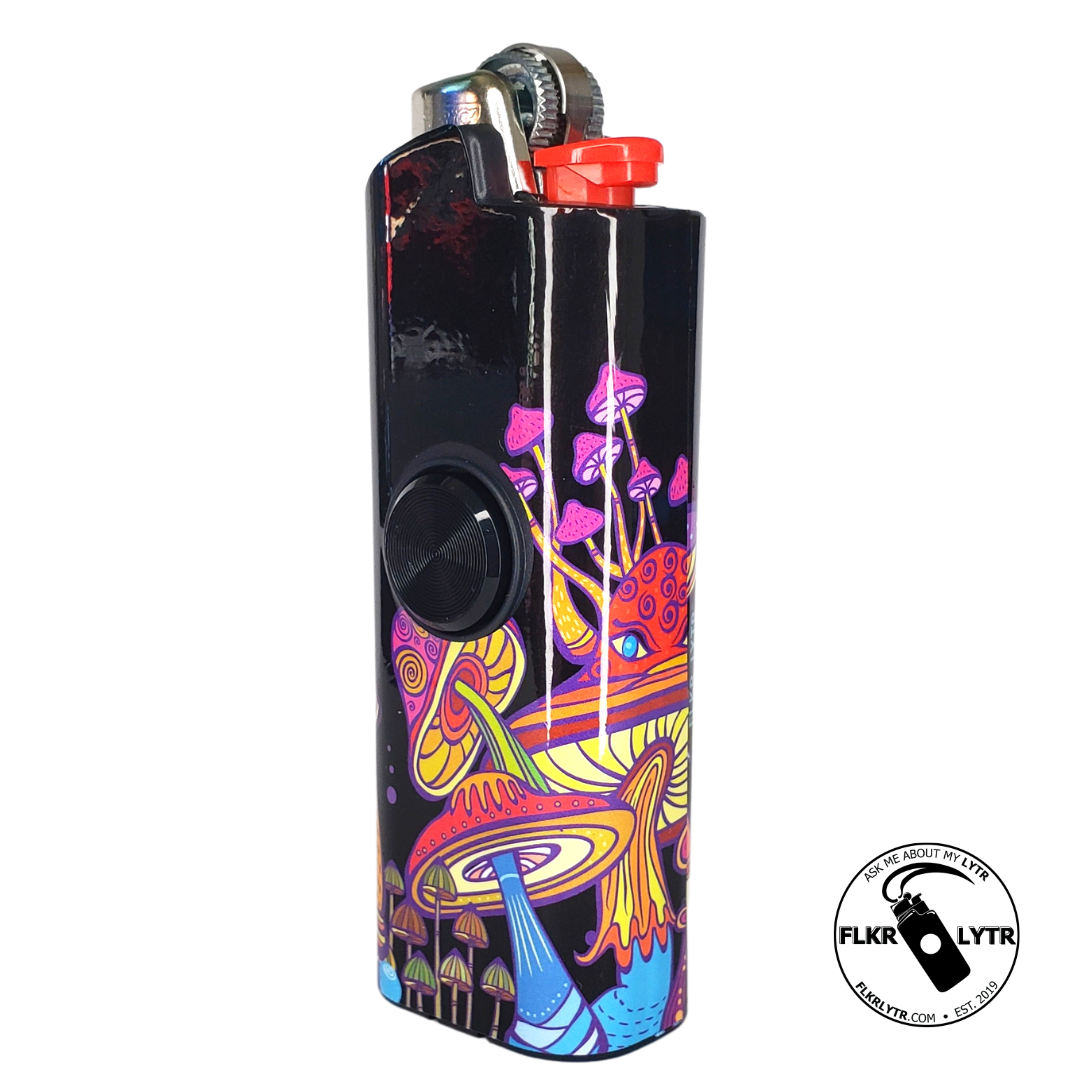 Collapsible content
DETAILS

Learn how to use your new lighter case.

Thank you for purchasing yourself a FLKR LYTR! This video will help clarify which lighter to insert into the FLKR for maximum enjoyment! Follow us on social media to get updates on new deigns and colors.

Welcome to the FLKR FAM! 

 

How to insert your lighter into you new lighter cover in three steps.

Step one

: Make sure that your Bic lighter is a classic nude design. Must have no additional wrapping on the lighter!

Step two

: Then take the Bic lighter and place it at the base of the FLKR LYTR- Push to the top until firmly gripped.

Step three

: Now you can flick the FLKR LYTR for entertainment or enjoy the

functionality of the lighter whenever needed!

 

FLKR LYTR: Pronounced flicker lighter 

Please note: Bic lighters with additional wrapping on them WILL get jammed in the FLKR LYTR! Make sure to remove wrapping or get a standard naked Bic.  

 

 

 

This page is made just for you - thanks for scanning! If you have more questions please email us at info@flkrwrld.com

 
TIPS

Makre sure to insert the PLAIN BIC lighter at the bottom of the FLKR LYTR- the lighter must not have additional wrapping on the lighter!
SHIPPING

US shipping is free for orders over $30!